Hi all. I have been wanting to blog all week but I just never can find the energy at the moment. But here I am, sharing a snap shot and linking up
1. How sweet is this clip art? I bought a BUNCH of stuff from Kari Bolt during the last sale and made this fun little subtraction pack for little learners. An addition pack will be coming soon too! Click
HERE
to visit her Facebook page and
HERE
to find this pack on TPT
2. It was 'i' week this week so we made these headbands in our fine motor/oral language groups. It only took them about 15 minutes to cut, colour and assemble so it was a great activity! I will be posting the full set of these basic alphabet bands in my TPT store over the weekend. Make sure you like my
FB page
so you will know when they are listed (I might even be keen to give one or two away!)
3. Another activity from our groups this week was shaving cream writing. It was our first time trying this and we will definitely do it again (just not sure how much 'writing' went on as we were too busy giggling about how the shaving cream felt)
4. One last activity from groups - GEOBOARDS. I bought a geo board pack quite a long time ago and thought this was a great time to use it. The shapes were quite challenging for my Kinders but they had lots of fun. Pack from
First Grade Blue Skies
5. This one is from last Friday (I can still include it can't I?) We have been trying to use different craft/art techniques each week on Friday Funday - yes it is a thing in our class. These cute "crocodiles" came from the ever talented Mel
From the Pond
. We painted the bodies the day before, then cut the next day, did our paper accordian folding (which is a lot harder than it looks for a 5 year old lol) and did the teeth. I actually glued the template onto foil so the teeth would look shiny :) Funny story though, when I took the paper home to glue on, I discovered I only had purple foil. Add a googly eye and it was done! Click
HERE
to go and look at it in Mel's TPT store. And
HERE is a blog post
from Mel showcasing some of the awesome things you can make from this pack.
You made it to the end! Great! I am going to give away one of my
Subtraction Task Cards for Little Learners
(seen above). Just leave a comment with something you did in class this week (dont forget your email address). I will pick a random winner on Sunday (Syd time)
AND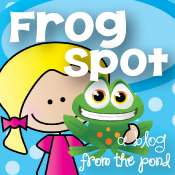 Love this girl!
So that is 2 lucky winners! Leave your comment to be entered!